By Jason Masters
Environmental Health Director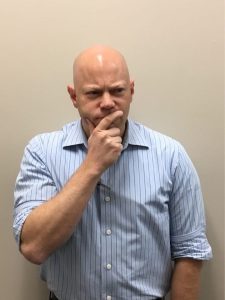 A
Q:
Hello Jason. With summer fast approaching, my family is looking forward to spending more time outdoors. We love to grill out on our patio, but we have always been afraid of undercooking our food, so we end up burning or severely overcooking everything. Is there a safe way to move food from our normal kitchen area to our grilling area, and what are some tips we can use to help us maintain delicious, properly prepared meats and vegetables?
-Julie
A:
Hi Julie, I'm glad you asked this question. This is the time of the year when people start spending more and more time outside, with music playing, kids going crazy in the street, everybody wearing their shades until 10 PM…you know what I'm talking about. It's only natural that somebody throws some meat on the grill and the next thing you know, BAM! Salmonellosis is running rampant.
Now, hopefully, none of us will experience this scenario this summer, and there are several things you can do to help avoid this. This is a good time to remember the "core four" rules of sanitation…
1) Clean-You want to make sure that everything that comes in contact with your food is clean. I'm talking about pans, cutting boards, utensils like tongs, knives, EVERYTHING. There is no easier way to contaminate your food than with dirty utensils.
2) Separate-This seems easy, but is sometimes surprisingly difficult. You must make sure that cooked food never comes in contact with utensils that have previously handled or touched raw meat.
3) Cook-Unless you haven't been to a restaurant in the last 25 years, I'm sure you are familiar with the consumer advisory. It's usually that tiny print at the bottom of the menu that talks about eating raw or undercooked food, and the possibility of becoming sick by consuming certain foods. (We will talk more about the consumer advisory in another issue…) Same rules apply at home…you want to make sure that all your food is completely cooked for food safety, but at the same time, you want to maintain quality by not overcooking. There is only one way to do this…~spoiler alert~-it's not the poke and feel method, it's not the cut and watch the juices to see if they run clear method, it's not the "been on there for 2 and a half hours" method, and it's not the "well, my brother-in-law always leaves chicken on the grill for 2 minutes per side and it's the best! Ain't never got sick yet" method. The only way to be sure a food is cooked is to use a food thermometer, and know the correct final cook temperatures for the food you are cooking. Now, with that being said, a chef or experienced cook may be able to tell when a food is properly cooked through learned methods and awareness of conditions, but to be on the safe side, I recommend using a food thermometer.
4) Cool or serve immediately-After your food is removed from the grill (or whatever method you are using) don't let it sit around* while you finish that second gin and tonic. Hopefully you have prepared sides or other dishes that are ready to go when your food is removed from the grill. If you aren't going to be eating the dish shortly after it is removed from the heat, you need to begin actively cooling the food to ensure it is not maintained in "the danger zone" (145 degrees F – 45 degrees F) for a long period of time.
If you are a long time reader of our "Ask A Health Inspector" column, you already know the importance of thoroughly washing your hands before, during, and after food preparation. It's not OK to grab raw meat, slap it on the grill, and wipe your hands on your "AC/DC" T-shirt. Even Angus Young wouldn't do that.
Other things to remember during the summer months include proper thawing, proper marinating, and correct holding temperatures. Putting a 2 pound package of frozen hamburger in the sink and letting it sit there all day because "Gotta get ready for tonight!" is not proper thawing. Safe methods for thawing food include placing it under running water of 70 degrees or less, as part of the cooking process (which I don't recommend for burgers) or the preferred method of thawing; under refrigeration. Yes, it's going to take a little more planning to remember to grab the meat out of the freezer, but hey, you're reaching in there for ice anyway for that gin and tonic, right? It's right there! Just grab it!
It is possible to safely thaw meat in the microwave, but be careful, as microwaves tend to fluctuate, and can pretty easily "over-thaw" something. Sometimes it's hard to hide that really dry, overcooked part of a burger with cheese (yeah, I do that too…~wink~)
Marinating is an issue that we run across frequently as well. It is not safe to marinate something on the counter at room temperature. Many people think that because their marinade contains citrus juices, or salt, or hot sauce, or whiskey, or whatever, that microorganisms can't grow. WRONG. Just as with cooked food, raw food held at "danger zone" temperatures can grow multitudes of bacteria. Yes, when you put the food on the grill and thoroughly cook it to its appropriate final cook temperature, the bacteria will be killed…BUT, what won't be killed is toxins that the bacteria can produce. Toxins are made up of proteins, and technically aren't "alive", therefore they can't be killed by heat. So be sure to marinate your food under refrigeration, and ensure that you are storing your foods correctly in the fridge. Don't put your banana pudding under the marinating chicken. It's a well-known fact that bacteria love banana pudding… (This is not true, and is just used as an illustrative point, but for real, don't put raw, marinating foods above ready-to-eat foods. It is a really bad idea, and I would mark a restaurant for doing this and take points.) This leads us into correct holding temperatures.
If you are going to be holding foods they must be maintained at temperatures above 135 degrees F or below 45 degrees F. Holding at these temperatures will prevent the growth of harmful bacteria, and therefore be less likely to produce toxins, not to mention most people like their food hot, not tepid. I'm not one to cite etiquette, but it's just not polite to serve your guests cold food.
So this summer, when you are out chilling with your buddies, hanging around, talking about how crazy the kids are, remember to be safe when Bubba tells you he's just going in to grab another beer and that chicken that's been sitting on the table since noon in his special blend of liquor and clam juice. It might not be the best idea to put Bubba in charge of the grill next week…if you live to see next week…
*By "sitting around" I mean left for longer than about 30 minutes or so. It is usually a good final cook step to let your food (especially meat) rest for a period of about 5-10 minutes before slicing or serving. This rest time will allow for the juices of the meat to redistribute, and will allow the food to reach its final cook temperature… (You DO know your final cook temperatures, right? If not, we will cover those in another issue. Sorry, you are not allowed to grill anything until you read that article…lol)-
JM