By Jason Masters
Environmental Health Director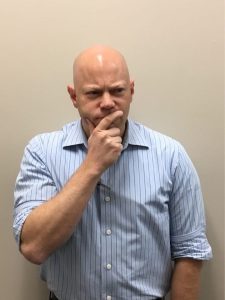 A
Q: Dear Jason,
I just have a question…Is it possible for a large group of people to get sick from one meal? I was recently at a holiday party with some "friends", and a few days later, several of them got sick! We are not sure of the cause, but we suspect one individual as the source….
-G. Rinch
Hello! Well that's a great question that frequently comes up around the holiday season. The chances of a large group of people getting sick from one meal is pretty high, especially around the holiday season, due to people not paying attention to proper cooking times, food storage issues, and generally being distracted by the events around them. In fact, this reminds me of a poem I once heard…I'll try to recreate it here the best I can. Any similarity to other stories or poems is purely coincidental…
To be read in the voice and style of a large, hairy, green being that initially dislikes his neighbors and their penchant for the holiday season, but through a series of misadventures and a journey of self-discovery, comes to the realization that his lifelong loathing may have been slightly misplaced…
"Merry Christmas to all, and to all a good night!"
Was the thing I was thinking as I took my last bite.
I had no idea I was in for such trouble,
When I heard Mindy Sue Whoo's small tummy grumble.
"It's a Christmas feast!" I thought to myself,
"Fit for a King!" (Or at least a large elf)
The biggest spread! Hours it lasted!
Complete with orange flavored effervescent antacid.
When I took the Whoo's pudding, and I took their roast beast,
I couldn't have imagined it would be such a feast!
I didn't hot hold it or keep anything cold.
"Why would I?" I thought, "It's just hours old!"
I rolled it all up on the living room rug,
And then stuffed it all up with the rodents and bugs.
No reason to think I did anything wrong,
when I put all their food on a sleigh with a dog.
You know the story, I brought it all back,
and I carved it and served it right out of the sack.
Each Whoo got a serving (including the dog)
Topped off with a cup of Great Gram's raw egg nog
Two days later, a few Whoo's got sick,
complaining and saying they couldn't sing worth a lick.
They took some painkillers! They drank soda water!
They used cool rags, but their fevers got hotter!
It came without warning! Not any red flags!
But it DID come with retching, and bloating, and gags!
Yes, all The Whoos down in Whooville were walking among us,
With cases of E. Coli and salmonellosis.
Diarrhea! And fever! And abdominal cramping!
No sleep in the night, just occasional catnapping!
About 10 percent of the Whoo's were sent home, diagnosed with hemolytic uremic syndrome.
Red blood cells were damaged! Failure of the kidney!
Which is especially dangerous to young Whoo's and the elderly…
About a week later, the Whoo's felt much better,
Following textbook symptoms right down to the letter.
The moral of this story is just this my friends: keep your food safe from beginning to end.
Maintain hot temperatures if you plan to hot hold it,
One thirty five (135) is the number it must hit.
Forty one (41) or below for cold holding for later,
Use an ice bath or your Whoo-frigerator
Fully cook all your food, (roast beast included)
So you don't get sick, like Mindy Sue Whoo did
Final cook temps are the things you must know
To reduce the microbial/bacterial load
Don't put your roast beast under raw chicken juice
You may need a physician, (or one Dr. Seuss)
Storing food properly is the thing you must do
To avoid contamination, and adulteration too!
Fully wash your hands, small, large, or green.
Use soap and warm water, and scrub until clean.
In order to be safe this holiday season,
simply follow these rules, you all know the reason.
And one last thing before biding adieu,
Remember the story of G. Rinch and the Whoos…
Be kind to your family and neighbors alike,
Children are watching, even the tiniest tyke.
Happy Holidays, Everyone!